PAINTED PEPPER OMG SHINE ON U
Junior Wether
AVAILABLE — PRICE:  $300 individually or as companion to junior doe/ complimentary as buck companion to our available Junior Buck Painted Pepper OMG Uncle Sam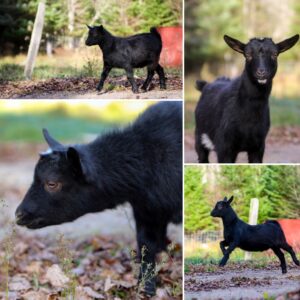 Photo Credit (above photos) Sarah Swazey, 10/2022, @ 4.5 months of age
DOB:  6/10/2022
RE: PTPF/LE: P23
ADGA Registration: NA
Height:  NA
This young gent, Painted Pepper OMG Shine On U from Painted Pepper CD WithDiamonds 3*M, sporting his sire's goatee is unmistakably sired by Old Mountain Farm Got Milk? Keeping with his dam's song-inspired name (she and her sister together are "LucyintheSky" "WithDiamonds") we named this year's brother and sister duo  Painted Pepper OMG Shine On U 🌟& OMG  CrzyDiamond💎 (retained).
It isn't every little boy goat that we select to go on and be herd sires.  In addition to carefully considering the genetics from their sire and dam, we also look very closely at their overall conformation, presence as well as growthiness/stature.  The good news is that those we don't select to continue on as bucks can often become excellent pets for small homesteads or even rural homes, as well as excellent buck companions and doe companions with out all the fuss and stress of keeping an intact buck.  As doe companions, they are excellent at detecting heats, especially in junior does who may not be as obvious.  As buck companions, they keep your single breeding buck company and warm and cozy in the winter when he is off duty and not with the does.  For those who just love goats but are not interested in milk, the friendliness and capriciousness of our Nigerian Dwarf Goat wethers is perfect for a touch of tending livestock and having goats without the work of actually milking and breeding them.
Shine On U is well socialized, lovable and looking for his perfect home!  Like our does and bucks, he will have biosecurity screening before leaving our home for yours so you can be sure you are introducing the healthiest goats possible to your environment.
***
DAM: Painted Pepper CD WithDiamonds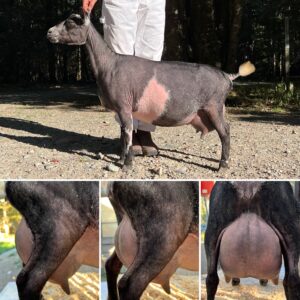 LA FS84 +VV+ @ 4-07yrs
DHIR@ 1-11yrs = 325d/508# — ME305d/668# (extended lactation)
DHIR@ 3-01yrs = 305d/833#; 614d/1105# (extended lactation)
DHIR@ 5-02yrs = 147d/461# — ME305d/715# (lactation in progress as of 11/2022)
MATERNAL GRANDDAM: Painted Pepper SB Frosting 2*M
MATERNAL GRANDSIRE: Painted Pepper JJ Count Drogo
***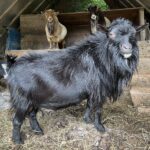 SIRE: Old Mountain Farm Got Milk? (polled)
PATERNAL GRANDDAM: 3*M Old Mountain Farm Leeloni
LA — FS89 (VVEE)
DHIR — NA
PATERNAL GRANDSIRE: Old Mountain Farm Hercules
***