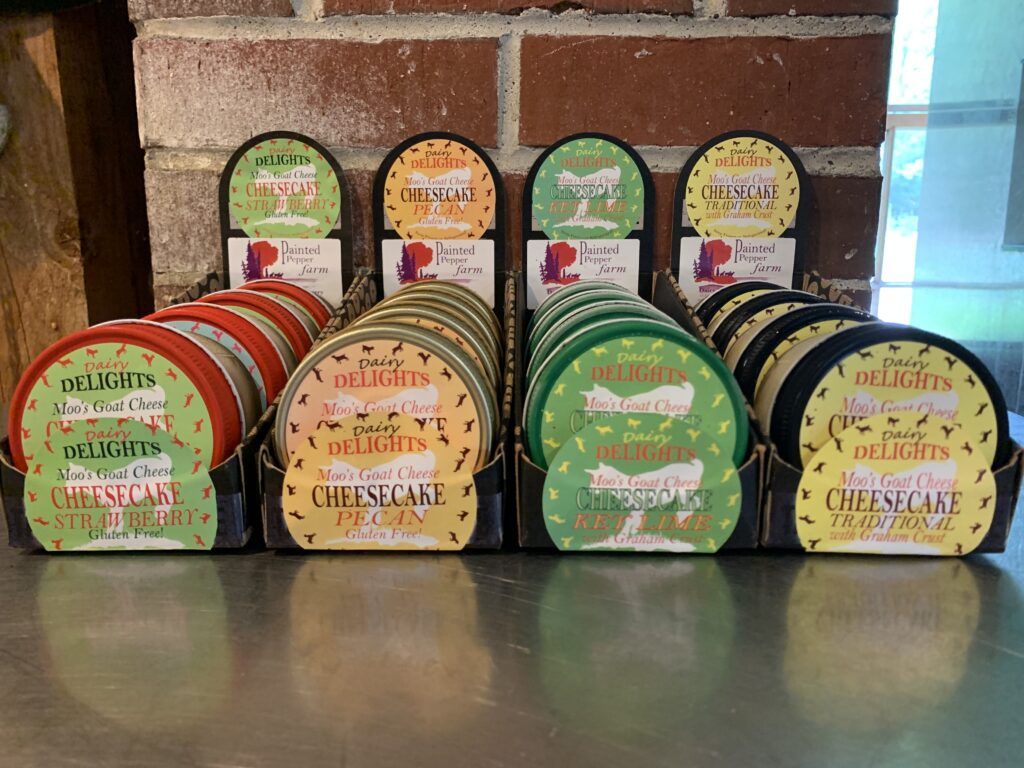 In memory of our daughter and sister Maiah "Moo" who left us on March 3rd, 2020, we pledge to gift 5% of all 2020 and forward gross sales of our Dairy Delights Moo's Goat Cheese Cheesecake to charity, to be shared equally between:  
* Bangor Area Recovery Network (B.A.R.N.) in Brewer, Maine;
* Hancock County 4-H Leaders' Association — UMaine Cooperative Extension — in Ellsworth, Maine; 
* Maryville College Center for Campus Ministry —  in Maryville, Tennessee; and
* Ronald Mcdonald House in Bangor, Maine;
* 1% for FARM ART — Painted Pepper Farm will donate 1% to a local artist annually to create outdoor art/painting/sculpture on the farm and/or at Moo's Corner in honor of our magical Maiah Moo!
With your purchase, you are helping support the most vulnerable of our community's youth and their families and making a positive investment in the Tomorrow of us all. Thank you for helping to make a difference ❤️
About Moo's Goat Cheese Cheesecake — Our Goat Cheese Cheesecake in a Jar is made with our award-winning Dairy Delights Chevre and Yogurt using Grandma Shirley's delicious New York Cheesecake recipe handed down through the generations, adapted and perfected for our Nigerian Goat Dairy & Creamery by her granddaughter Maiah "Moo" — Available in 4 oz. single-serving-perfection jars:
Traditional Graham
Traditional, Gluten-free Buckwheat Crust
Key Lime, Graham Crust
Strawberry, Gluten-free Almond Crust
Pecan, Gluten-free Almond Crust
Pumpkin Spice, Graham Crust
Pumpkin Spice, Gluten-free Buckwheat Flour Crust
They are guaranteed to exceed your expectation! Stores well frozen or refrigerated. Pop it frozen into your lunch box or cooler for the most delicious "ice pack"/dessert combo ever!
You can find our Moo's Goat Cheese Cheesecake in our on-farm Farmstand, online by mail-order as well as at select retailers including A&B Naturals (Bar Harbor), Belfast Coop (Belfast), John Edwards Market (Ellsworth), Quill's End Farm (Penobscot), Tiller & Rye (Brewer), and Tradewinds Marketplace (Blue Hill).