(Maiah finalized this college admission essay in the Fall of 2018.  She applied to four schools and was admitted to all.  Her greatest achievement of all, however, in this regard was actually graduating from Brewer High School given her life challenges. Her authenticity and self awareness as a young woman is clear in this essay. Gratitude to the dedicated staff and teachers at all of the five high schools Maiah attended, most especially to those at Brewer High School.)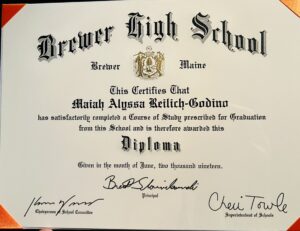 My life, far from ordinary, has brought me to my current independent living situation, without parental support.   Having attended five high schools, I have experienced significantly varied teaching styles and communities, from my private college-prep school to the rural school in a town full of lobstermen. As I look back at this time, I see an obstacle course of fiery hoops through which I have jumped to reach my goals. With each school transition, and obstacle overcome, I have learned to be adaptable and comfortable with change, finding how best to thrive in each new situation.
The biggest challenge for me was when I made the decision to leave my mother's home. I had stayed in alternative living situations in the past in order to complete school years when I moved between my parents' homes, but I had never faced the world completely alone. I remember calling my mom and telling her  that although I loved her very much, I would not be coming home. At the time, I was attending George Stevens Academy in Blue Hill — a sweet little town on the coast. I embarked on my new life in Bangor — an urban community with challenges of its own. I spent two unsuccessful weeks, looking for a place to live and a job, questioning my decision. I had no plans to return to school at all. But, within a short time, I realized  what was truly important to me  — to be someone, to do something with my life that mattered, to make a difference on a larger scale.  Being a waitress without knowing where I would live next was exciting and interesting to a point, but it was far from what I envisioned for my future and my adult life.
The very next day, I took the bus to Brewer High School. I had no idea what would come next, but I walked in with confidence. Based on research I had done online, I learned I could register as a homeless youth without a place of residence or a parental signature. Armed with this, I enrolled, signed up for classes, and started attending high school full time the following week. Being April, this was the tail end of my Junior year. The following three months were probably the hardest time of my life. Lacking a consistent place to stay, reliable source of food, and guardian to support me, I was truly alone. My grades suffered. I was disappointed in myself. At the same time,  I knew that, given the circumstances, I did my very best.
It is now October 2018.  In an apartment with supportive roommates, I am enrolled in AP and honors courses with my grades returned to mostly A's. I attend high school daily, embracing each day with a positive attitude. The road I have traversed, partly by choice and partly due to family circumstances, has taught me more than I could have hoped to learn from a textbook. I have learned how to read people, interact with them, navigate tricky undesirable situations, be scrappy and persistent despite the challenges in my way.  I have learned that I can write just as good of an essay in my friend's messy hallway as in the comfort of my mother's home. Most importantly, I have learned that I am strong, independent, and capable —  a woman who can take responsibility to care for myself and those around me.
I have much to learn and experience still ahead. Precisely because of my journey to this point, I am confidently ready to step up to the plate, keep my head held high, and do what it takes to get where I want to be in life. Attending college has been my dream through this all.  As I work hard to make this dream a reality, the most empowering aspect about where I am now is that I did it myself.
*******