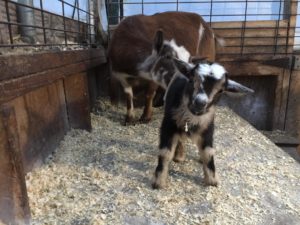 We take reservations year-round for our expected kids and often have some young and adult stock available for sale. Please let us know what your needs are – we may have the right fit! If we don't have the perfect animal for you, we'd be happy to refer you to someone else who might.
All of our Nigerian dairy does and bucks are ADGA (American Dairy Goat Association) registered. We are a licensed commercial Dairy and have a closed herd. We test on a rolling biannual basis for Johnes, Brucellosis, CAE & CL and are test-negative for all of these since we started our herd in 2005, We participate in two very valuable programs – the ADGA Linear Appraisal Program annually as well as monthly milk testing through Dairy Herd Improvement – and are happy to share the results of these with you.
As we have a closed herd that has consistently tested negative for Brucellosis, CAE, CL & Johnes, we do a combination of dam raising and bottle feeding for 10 to 12 weeks. We prefer not to place our kids in new homes until they reach weaning age, as this ensures them the best chance of a happy and healthy life for years to come. All our kids will have been disbudded, vaccinated, and wethered or tattooed as necessary before leaving for their new home.
When you purchase a Painted Pepper Farm Nigerian goat, you can be sure that we will be there to answer your questions and support you as you prepare for your home your new arrival and well beyond. We are always just a phone call or message away! We are happy to share our knowledge with you and to demonstrate any skills you will need to care for your new charge, including hoof trimming, how to give injections, as well as disbudding, tattooing and wethering when you later have your first set of kids. We want to help you in anyway we can – and if we don't know the answer to your questions, we will do our best to help you find it.
If you are a first time goat buyer, please read the excellent advice from Fias Co Farm on Getting Your Goat (www.fiascofarm.com/goats/getting-your-goat.htm). For beginner and more experienced goat keepers alike, be sure to check out the other pages on this site for a wealth of information covering nearly every aspect of goat health and husbandry.
As with other animals, like cats, dogs and horses, caring for a goat involves commitment throughout the lifetime of the animal. Goats are intelligent, affectionate and entertaining creatures that will reward you with many years of companionship and delicious milk if properly cared for. If you are unwilling to invest in, or are financially unable to provide adequate shelter, nutrition and veterinary care, then goat ownership is NOT for you.
Painted Pepper Farm goats are sold to good homes only.
Our definition of a good home is one that provides all of the following:
* lots of love *
* a clean, dry, protected shelter *
* a home free from exposure to goat diseases*
* free choice fresh water, good quality hay, minerals & kelp meal *
* grain for growing babies, lactating does (and others, as needed) *
* access to a veterinarian who will "do" goats *
* regular vaccinations and worming as needed *
* routine hoof trimming *
* a caprine companion *
* lots of love *
Pricing: Prices for registered breeding quality does and doelings range from $400 to $800. We have a limited number of young bucklings for sale each year and these range from $600 to $800. We often have pet wethers, which are available for $150 each or $250  as a pair or for $100 whenever sold as a companion to a doe. Discounts are available for multiple purchases and for 4-H youth. We sometimes have pet quality does and doelings and retiring senior does available. They are available to good homes with prices starting at $300 (without registration papers). All breeding stock is screened by blood test for diseases within 4 weeks prior to leaving and confirmed test negative. This expense of approximately $40/animal  is included in the cost of your goat.
Reservations and Shipping: We are happy to take reservations for future kids. We now keep a wait list — please let us know if you would like to be placed in this and specify the following:
* Doeling, Buckling, Wether, Senior Doe, Senior Buck, quantity, purpose — pets, 4-H, show, milk production, ideal pick up date, price range, quantity. Also please let us know what you already have for goats if any.
If you would like to reserve a kid from a particular breeding, please let us know.
Reservations require a $150 deposit. Once you are on our waitlist, we will contact you as soon as we have what you are looking for — you have 48 hours from the time we contact you to make a reservation which we can take online or you may bring to the farm as cash/check. Your deposit is bon-refundable but may be transferred to a future purchase.
If you need your kid(s) shipped to you, we will be happy to arrange this, but please note that all shipping fees, inclusive of shipping crate, and health certificate fees including any testing required for the State where the goat is to be shipped will be your responsibility. Please be sure to check your State's importation requirements at the USDA APHIS Veterinary Services web site. (www.aphis.usda.gov/vs/sregs).
Please note, because of our strict attention to disease prevention and biosecurity, once your purchased goat leaves our farm, we accept no returns. If a purchased doe is confirmed infertile, we will gladly offer a replacement doeling kid or a full refund. We also reserve the right to make substitutions on all reserved kids. Thank you for your understanding.
Thank you for your interest in the Painted Pepper Farm Nigerian Dairy Herd!