PAINTED PEPPER OMT STARRY NITE 
Junior Doe
RESERVED — PRICE: $850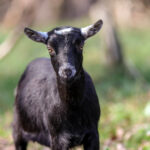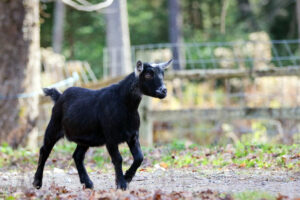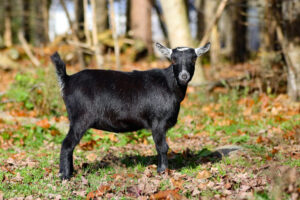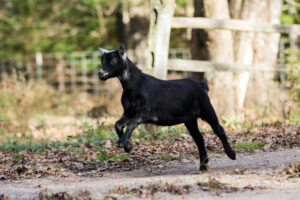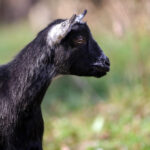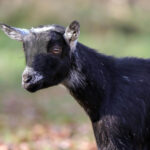 Photo Credit Sarah Swazey, 10/2022, @ 5 months of age
DOB:  6/5/2022
RE: PTPF/LE: P19
ADGA Registration:  PD2275221
Height:  NA
Linear Appraisal:  NA
Painted Pepper OMT Starry Nite goes into the category of "If only we could keep them all!"  A beautiful lengthy black roan Junior Doe,  Starry Nite is out of Painted Pepper PZ Moonlight 4*M and Old Mountain Farm Theodoregene,  (littermate Painted Pepper OMT Milky Way retained) and half-sister to our available Senior Buck — Painted Pepper OMG Aries.
Starry Nite's dam Moonlight, with her exceptionally correct mammary system, large easily expressing teats and creamy collapsible udder, also brings with her — as a SG Painted Pepper Guinevere 3*M (ADGA ELITE) daughter — SG designation two past generations deep and in her 1/2 sisters as well with consistent Production and conformation throughout.  Look at the udders in this lineup of our  Guinevere daughter's (1st, 2nd and 4th doe) to see the consistency you can expect in udder conformation.
Starry Nite's Grandsire through Moonlight, Painted Pepper JS Pizzazz +B, has given us several proven daughters with solid milk production, large easy expressing teats, and excellent udder conformation. He has the power house producer  1*M Painted Pepper RJ Spunky as his dam who was incredibly productive in her younger and middle years (herd hiatus on DHIR testing during these years and so no official records), is able to do extended lactations, and showed solid production with a will to milk as a 12 year old doe on the 3rd year of extended lactation. On Pizzazz's sire Painted Pepper PJ Jumpstart ++*B, we can't express enough how much we love his many daughters in our milking herd both in terms of conformation and productivity.  He brings with him strong Jobi genetics from his grandsire and SG 2*M AGS Rosaharn's Eclipse (LA 91 (EEEV) @ 12-04) genetics through his grandsire. 
Starry Nite's sire, Old Mountain Farm Theodoregene, is a full brother to Old Mountain Farm Octavia Quinn 1*M FS91 (EEEE) who excels in all the ways we value with excellent conformation and a perfect mammary system with plumb easily expressing teats as well as being admirably productive as was her and Theadoregene's dam Old Mountain Farm Pamela Jean who brings with her Sugar Moon and PromisedLand conformation/production genetics.  We are so excited to add the genetics of this Old Mountain Farm Pamela Jean and Old Mountain Farm Tomo Quinn son to our herd who we sadly lost in 2022 due to a rear leg injury.  We are fortunate to have retained three sons and twice as many daughters (including Starry Nite's littermate Milky Way) who we will be looking forward to freshening in 2023 and 2024.
***
DAM:  Painted Pepper PZ Moonlight 4*M
LA FS87 VEVV @ 5-04yrs

DHIR@ 1-09yrs = 269d/334# — ME305d/417#

DHIR@ 3-05yrs = 305d/605#; 451d/736# (extended lactation)  — ME305d/653#

DHIR@ 4-10yrs = 306d/706# — ME305d/726# 

DHIR@ 6-00yrs = 154d/509# — ME305d/746# (lactation in progress 11/2022)
MATERNAL GRANDDAM: SG 3*M Painted Pepper PS Guinevere (ADGA ELITE)
LA FS86 VVEV @ 5-04yrs

DHIR@3-11yrs = 279d/649# — ME305d/765#

DHIR@ 4-11yrs = 242d/633# — ME305d/799#

DHIR@ 5-10yrs = 331d/634# — ME305d/596# 

DHIR@7-00yrs = 265d/579# — ME305d/603#
DHIR@7-11yrs = 449d/932# — ME305d/787# (extended lactation)
MATERNAL GRANDSIRE: Painted Pepper JS Pizzazz +B
***
SIRE: Old Mountain Farm Theodoregene
(Theodoregene Full Sister — Old Mountain Farm Octavia Quinn 1*M FS91 (EEEE)
MATERNAL GRANDDAM: Old Mountain Farm Pamela Jean FS86 (++VV)
MATERNAL GRANDSIRE: Old Mountain Farm Tomo Quinn FS89 (VVV)
***