Welcome to the Painted Pepper Farm "12 Goats of Christmas Goat Sale" — 12 select members of our ADGA Registered, Disease-test Negative, Silvopastured, Sustainably/Humanely Managed Dairy Herd are offered here at BOGO 1/2 off and 3rd one 75% off 😮😍🐐 The "12 Goats of Christmas" are available for reservation at these sale prices December 25th — January 5th. We will reveal each goat of Christmas and all their details on their special day of Christmas! Be sure to read all the below information.
12 Goats of Christmas Sales List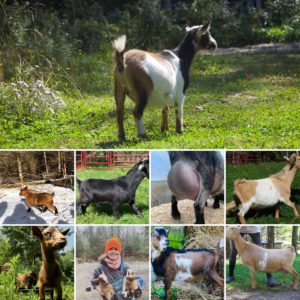 PLEASE READ: Reservations are on a first come basis and deposit is $150 for each goat reserved. This allows us to proceed with ruminant biosecurity screening.  Deposit must be received within 24 hours online to hold your chosen goat(s). You must confirm with us that your chosen goat is still available and then you may RESERVE YOUR GOAT ONLINE!
All prices below include ruminant biosecurity screening though WADDL for Johnes, CAE, CL & Brucelosis on January 10th (results available January 14th).  Junior bucks come with a complimentary wether if available. 
We price our youngstock based on the quality of their sire and dam taking several factors into consideration including whether or not sire/dam have LA/DHIR data, years of contribution to our herd and level of production, proven offspring, AR status, SG status. In general, these are our prices:
$500 — Base Price for Junior Does (typically doelings from first fresheners are offered at this price) based on their Dam/Sire 
PLUS……
$100 — AR (milk star earned) and/or +* sire
$100 — SG designation for sire and/or dam
$50 to $100 — 305day lactation 800# and higher
$50 to $100 — proven daughters (AR, Elite, SG, LA90 and higher, 800# + 305d production)
Senior does are primarily offered for three reasons — milk stand manners/disposition, because production is 650# or less based on a 305d lactation, or because we simply must downsize.  As a production herd with a limit on how many does we are able to sustainably milk (24 to 28), our decision to keep or let go one of our milking does is based solely on this.  They are sold at the base price of $500 if production is under 650#/305days. Typically the offered senior does are between 3 to 5 years of age.
Wethers are $300 each or $450 as a pair.  They do qualify for the BOGO 1/2 off sale as a companion to doelings and bucklings.
Reserved goats must be picked up and paid for in full between January 11th – 20th or will be subject to board of $5/day thereafter.  Delivery within 4 hours of our farm can be privately arranged for an additional fee. 
Listings for the "12 Goats of Christmas" include reference dam & sire information complete with DHI Milk Test and ADGA LA data where available. 
PHOTO NOTE:  We recognize that our photos are not the quality that they should be to allow for visual evaluation of conformation.  We have not concentrated on this in the past as a farm focused primarily on our commercial dairy/creamery and have relied instead on DHIR/LA annual data.  We sincerely apologize for the lack of visual information — it is our goal to provide higher quality informative photos of our senior does and bucks in Summer 2022. In the meantime, please ask us as many questions as you like and we  encourage you to come visit the farm and see the offered "12 Goats of Christmas" and their sires/dams in person 🙂 
DHIR/LA NOTE: Our herd was on DHIR and participated in Linear Appraisal from 2005 – 2010 and restarted in 2017 – some does listed are not recognized because of the gap in DHIR testing/LA.