CANCELLED: Due to our family coming down with COVID, we are making the decision to cancel this Fall's Open Creamery Day so we can focus on our health and farm essentials. We look forward  to seeing you on the farm to visit the goats  Spring 2023!
Our self-serve always open Farmstand will remain so!
Visit anytime, day and night, all year round!
*************
Join us on the farm, Sunday, October 9th, 2022 at 12 PM – 4 PM for a Fall Celebration of our wonderful Nigerian Dairy Goats! Visit our Dairy and Newborn Goat Kids, too.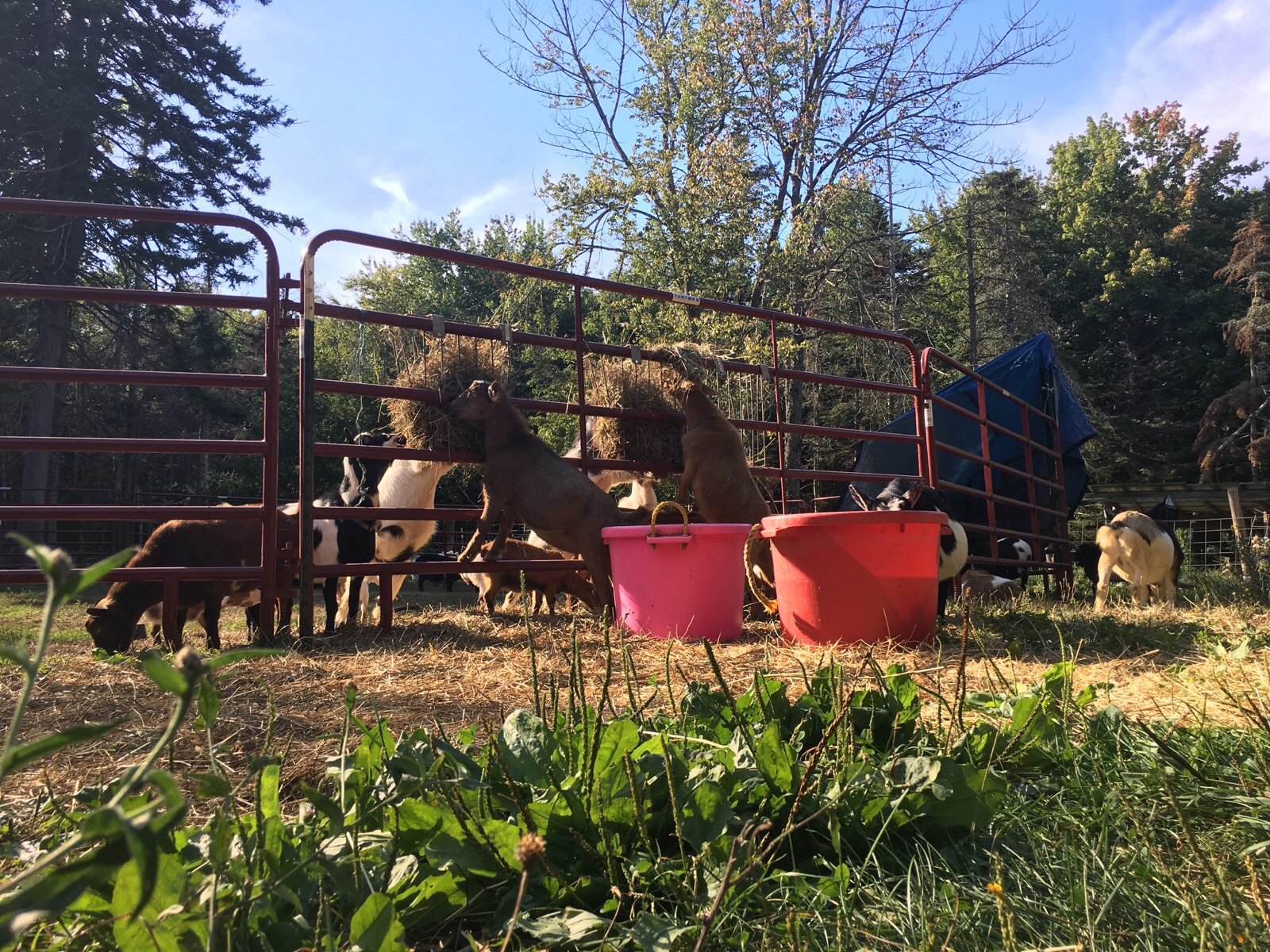 RAIN or SHINE! Join us Sunday, October 9th on the farm for a Fall Celebration of our wonderful Nigerian Dairy Goats and Dairy Delights! Visit our Dairy and Goat Kids, too.
Demonstrations and Farm Tours throughout the day, so come learn a little about micro dairying in Maine and keeping goats!
KIDS' FUN RUN at 12:30pm — All 2-legged under 18 year olds are invited to participate in our Kids' Fun Run through the Farm. Each participant will get a button. Top runners in four age categories (5 and under; 6 to 8; 9 to 13; 14 to 17) will get a coupon for a container of gelato to take home
Our Dairy Delights will be available for sale at our always-open Farmstand including our Yogurt, Kefir, Chèvre, Moo's Goat Cheese Cheesecake, Gelato and Fudge! This is your chance to learn more about keeping and caring for goats as well as how to set up a dairy room for your homestead or micro dairy.
SCHEDULE of the DAY:
12pm — Open Creamery Day Begins —
12:30 — Kids' Fun Run
1:15 to 2 pm — Guided Dairy Room Tour and Gelato making demonstration
2 to 3pm — Casual Q&A and Goat Visiting at Nursery & Milking Barn
3 to 3:45pm — Guided Farm Tour
4pm — Open Creamery Day ends — Safe Travel
DIRECTIONS TO OUR FARM:
From Route 1 in Steuben, turn onto Dyers Bay Road.
Travel 3 miles to Goods Point Road and turn left.
We are 1/4 mile on the right, #55
Look for Open Creamery Day signs.
COVID SAFETY PROTOCOL:
Subject to change —- masks recommended but optional outdoors, mandatory indoors. No food samples will be available at this event. Thank you for helping to keep your farmers safe and healthy!
NOTE: Please leave your pups and other critters home so you can better enjoy ours