🎄🎺 On the 6th DAY of Christmas, my true love gave to me 🎺🎄—
PAINTED PEPPER OMB Trumpeter
SOLD — PRICE: $600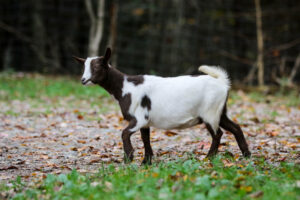 Photo Credit: Sarah Swazey
DOB:  4/7/2021
RE: PTPF/LE: N12
ADGA Registration: PENDING
Height:  NA
Linear Appraisal:  NA
Painted Pepper OMB Trumpeter is out of our first freshener and SG 3*M Painted Pepper PS Genevieve daughter — Painted Pepper FSE AllThat Jazz — who we are already on this first location impressed by both her production as well as her large, easily expressing teats, creamy udder and excellent rear and foreudder attachment in addition to her beautiful dairy character and refinement. Trumpeter brings with her through her maternal granddam and grandsire line breeding on SG Painted Pepper RJ Sprinter +*B, the sire of our most outstanding complete package does, many of whom are still in our herd and have achieved their SG designation, as well as line breeding on SG 1*M Mt. Signal Farm Darling Dottie, twice Top Ten ADGA for Milk Production (2006,2007) and the backbone of our production for our herd.
On Trumpeter's sire's side, we are pleased with the length of body and overall correctness that Old Mountain Farm Borax is bringing to our herd.  We have freshened two of his daughters as yearlings and in both cases we are impressed with the rear and foreudder attachment, correctness of feet and legs, length of body and level toppline as well as dairy strength.  We would like to see a stronger medial suspensory ligament on Swan, although her 1/2 sister Painted Pepper OMB Maiah Moo (yearling 1st freshener) does have a very nice medial suspensory ligament (udder pictured below).
Trumpeter's half-sibling and Borax daughter Blackstream Farm B LaceyLou  had a successful 1st year showing earning 1xRGChampionship (photo courtesy BlackStream Farm)!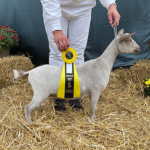 DAM:  Painted Pepper FSE AllThat Jazz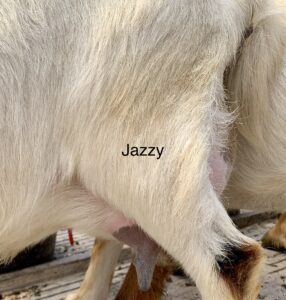 LA 83 +V++ @ 2-07yrs

DHIR@ 1-10yrs = 188d/451# — ME305d/760# (lactation in progress 10/11/2021)
GRANDDAM: SG 3*M Painted Pepper PS Genevieve (ADGA ELITE)
Udder picture at 8 yrs; Body picture at 5 yrs
LA FS90 EEEV @ 5-04yrs

DHIR@ 4-00yrs = 251d/625# — ME305d/774#

DHIR@ 5-02yrs = 242d/664# — ME305d/838#

DHIR@ 6-00yrs = 305d/718#; 605/1,033# (Extended) — ME305d/725# 

DHIR@ 8-00yrs = 164d/672# — ME305d/1,032# (lactation in progress 10/11/2021)
GRANDSIRE:
FeatherNScale Equilibrium *B
GRANDDAM: SG 2*M Painted Pepper PS Equinox 
https://lonefeatherfarm.com/does/equinox/ 
LA 90 VEEE @ 4-03yrs

DHIR@ 4-00yrs = 305d/680#
GRANDSIRE: Tiny Angels CK Two Faced
https://diggingdeeperfarm.com/tiny-angels-ck-two-faced/
SIRE: Old Mountain Farm Borax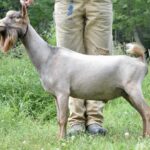 Borax pictured at 1-05yrs
GRANDDAM: 3*M AR Old Mountain Farm Armaghan