🎄🎺 On the 7th DAY of Christmas, my true love gave to me 🎺🎄—
PAINTED PEPPER OMB MARZIPAN
SOLD — PRICE: $800
DOB:  5/6/2021
RE: PTPF/LE: N37
ADGA Registration: PENDING
Height:  NA
Linear Appraisal:  NA
When our senior doe 4*M Painted Pepper PE GiGi first freshened in 2019, we were so wowed by her udder and production. Each year her production strengthens and we expect her to clear 1000# this year.  Add to this her excellent conformation and mammary system with large easily expressing teats, you have the perfect package doe.  GiGi comes from daughter Maiah's 4-H show herd and carries the strong consistent conformation of our foundation herd sire +B AGS Lost Valley Bishop *S (the sire of our outstanding herd queen,  SG 2*M Painted Pepper LVB Percilina [FS91 EEEE] Elite) as well as Jobi and Rosasharn genetics through Grandsire Painted Pepper JS Estabon.
On Marzipan's sire's side, we are pleased with the length of body and overall correctness that Old Mountain Farm Borax is bringing to our herd.  We have freshened two of his daughters as yearlings and in both cases we are impressed with the rear and foreudder attachment, correctness of feet and legs, length of body and level toppline as well as dairy strength.  We would like to see a stronger medial suspensory ligament on Swan, although her 1/2 sister Painted Pepper OMB Maiah Moo (yearling 1st freshener) does have a very nice medial suspensory ligament (udder pictured below).
Marzipan combines the excellent proven production genetics of our herd, the very best of our conformation does with added length of body, level topline and overall correctness from her sire for perfect total performance potential.
Trumpeter's half-sibling and Borax daughter Blackstream Farm B LaceyLou  had a successful 1st year showing earning 1xRGChampionship (photo courtesy BlackStream Farm)!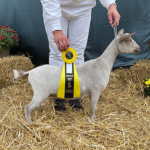 DAM:  4*M Painted Pepper PE GiGi
LA 87 +EEV @ 4-06yrs

DHIR@ 1-09yrs = 291/512# — ME305d/624#

DHIR@ 2-09yrs = 298/671# — ME305d/795#

DHIR@ 4-00yrs = 159d/633# — ME305d/1,105# (lactation in progress 10/11/2021)
GRANDDAM: SG 3*M Painted Pepper LVB Lin
LA FS84 (VVV+) @ 01-08

DHIR@ 9-05yrs = 250/415# — ME305d/555#
GRANDSIRE:
Painted Pepper JS Estabon
SIRE: Old Mountain Farm Borax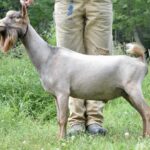 Borax pictured at 1-05yrs
GRANDDAM: 3*M AR Old Mountain Farm Armaghan