PAINTED PEPPER OMB CREAMSICLE
SOLD — PRICE: $750
DOB:  04/10/2020
RE: PTPF/LE: N21
ADGA Registration: PENDING
Height:  NA
Linear Appraisal:  NA
(P.C. Sarah Swazey)
Painted Pepper OMB Creamsicle and Painted Pepper OMB Dreamsicle are a repeat of the same breeding that gave us Painted Pepper OMB Little Swan, our 3rd Goat of Christmas, in 2020. As a now nearly 13 year old doe, Cakewalk will be officially retired and so these are the last of her doelings.  We are retaining Dreamsicle and Creamsicle's sister from this kidding — Painted Pepper OMB Orangsicle.
3*M Painted Pepper RJ Cakewalk is dam to  SG 4*M Painted Pepper PS Lemon Meringue, and is just finishing this year her final lactation at 12 years of age.  Her incredible dairyness coupled with hardiness, stature (21.75″ VT official), consistent will to milk, creamy udder with easily expressing teats is what has kept her a solid member of our milking line up all these years. Cakewalk brings with her SG designation two generations deep on her dam's side and forward into her evaluated progeny (Lemon Meringue) and through her sire (Swan's grandsire) Rosasharn  SP Jupiter +*B  the conformation and production genetics of SG 2*M AGS Rosharn's Eclipse (LA 91 (EEEV) @ 12-04). 
On Cremsicle and Dreamsicle's sire's side, we are pleased with the length of body and overall correctness that Old Mountain Farm Borax is bringing to our herd.  We have freshened two of his daughters as yearlings and in both cases we are impressed with the rear and foreudder attachment, correctness of feet and legs, length of body and level toppline as well as dairy strength.  We would like to see a stronger medial suspensory ligament on Swan, although her 1/2 sister Painted Pepper OMB Maiah Moo (yearling 1st freshener) does have a very nice medial suspensory ligament (udder pictured below).
Creamsicle & Dreamsicle's half-sibling and Borax daughter Blackstream Farm B LaceyLou  had a successful 1st year showing earning 1xRGChampionship (photo courtesy BlackStream Farm)!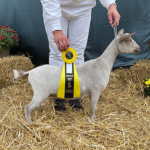 DAM: 3*M Painted Pepper RJ Cakewalk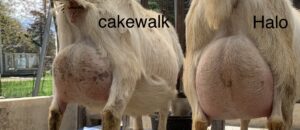 (Cakewalk udder at 12 years — May 2021)
LA  — NA

DHIR@ 7-10yrs = 249d/623#  — ME305d/754#

DHIR@ 8-09yrs = 289d/482# — ME305d/550#
DHIR@ 9-09yrs = 305d/586#; 324d/593# (extended) — ME305d/598#
DHIR@ 10-10yrs = 270d/785# — ME305d/850#

DHIR@ 11-10yrs = 185d/490# — ME305d/620# (lactation in progress 10/11/2021)
GRANDDAM: SG 2*M Painted Pepper ST Judy
LA FS83 (+VE+) @ 02-11 yrs
GRANDSIRE: Rosasharn SP Jupiter +*B
LA FS85 (VV+ ) @ 02-03 yrs
SIRE: Old Mountain Farm Borax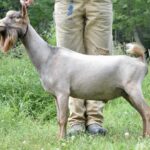 Borax pictured at 1-05yrs
GRANDDAM: 3*M AR Old Mountain Farm Armaghan 
GRANDSIRE: Old Mountain Farm Grey Cheek
The below pedigree detail is for full sister to Painted Pepper OMB Swan, Creamsicle & Dreamsicle — Painted Pepper OMB Hot Potato